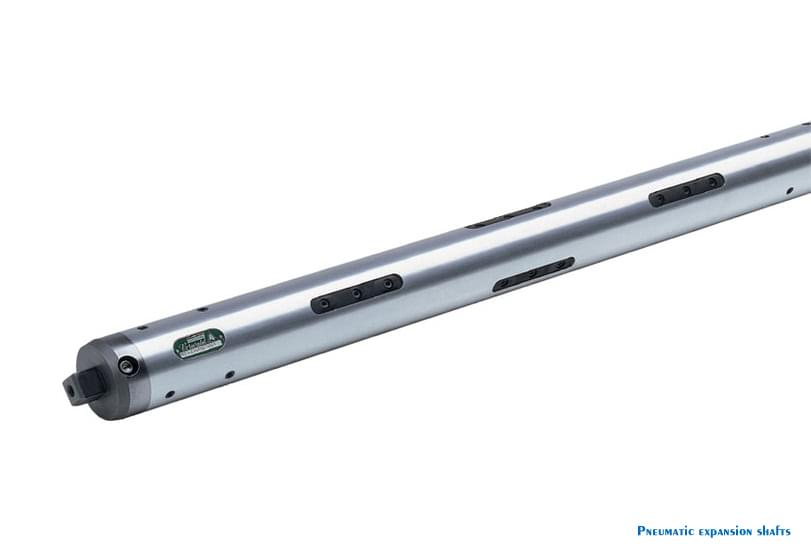 These Pneumatic shafts, Couplings, Chucks and Adapters are used in applications of winding / unwinding, materials e.g. paper, textile, plastic, aluminium, etc.
Expansion shafts:
Pneumatic expansion units are used in almost all applications. These are available in various models of a diameter from 12.5 mm to 500 mm. Simple and well-designed construction ensures a long service life. We also supply models with special shapes and individual clamping segments according to the customer requirements and designs.
Features:
Simple design on a modular principle

Minimal accumulation of dirt

They are removed by a high rate of rotation

In addition to shaft diameters from 12.5 mm to 500 mm

The individual clamping segments

They can be wound high weight and high torques

Security clap bearings are automatically closed at the start of rotation

Mounting of the foot or flange, the output shaft or the output shaft without

Choice bearings with interchangeable parts VT

Optional of the special equipment, such as. brakes, clutches, etc.

Ensure compatibility between the snap bearing and shaft expansion
Mechanical expansion shafts:
Mechanical expansion shafts can be supplied with individual clamping segments that can be used in all applications. Simple design allows for long service life. Mechanical expanding shafts with clamping sets, sheets and centering ledges are available for cores with internal diameters from 50 to 600 mm.
Features:
High load capacity for heavy coils

Centred clamping (therefore subject to very high speed)

High torques transmission

Easy handling

Little maintenance required
Expansion couplings
Vorwald expansion adapters are an economical alternative to expansion shaft. Expansion adapter can be used in both directions of winding and allows for secure and safe mounting of torque transmission with no-axial movement.
Features:
Fast adaptation to different diameters of tubes

Lightweight adapter

Easy handling

Inner hole according to customer specifications

Notably suitable for narrow strips of material and tubes with thin walls

Different standard sizes: 70, 76, 100, 120, 150, 152 and 152.4 mm
Expansion chucks:
Vorwald are suitable for unwinding without shaft for rewinding and unwinding machines. Simple design allows for long service life. There are several different types of expansion bolts with different types of clamping elements.
Features:
Transmission of high torques

Actual operating tolerance of +/- 0.1 mm

Quick clamping and clamping permission

There diameters of the pins of the expansion in the range of 50-500 mm

Absolutely concentric clamping

tubes
Mechanical adapter
Vorwald adapter's model series 900 with individual expansion jaws, expansion or rails are required when it is necessary to perform frequent changes because of different diameter tubes.
Features:
Transferring the highest torques

Actual operating tolerance of +/- 0.1 mm

Quick release clamping and clamping

Absolutely concentric clamping tubes

Adapters available diameters in the range 98-500 mm