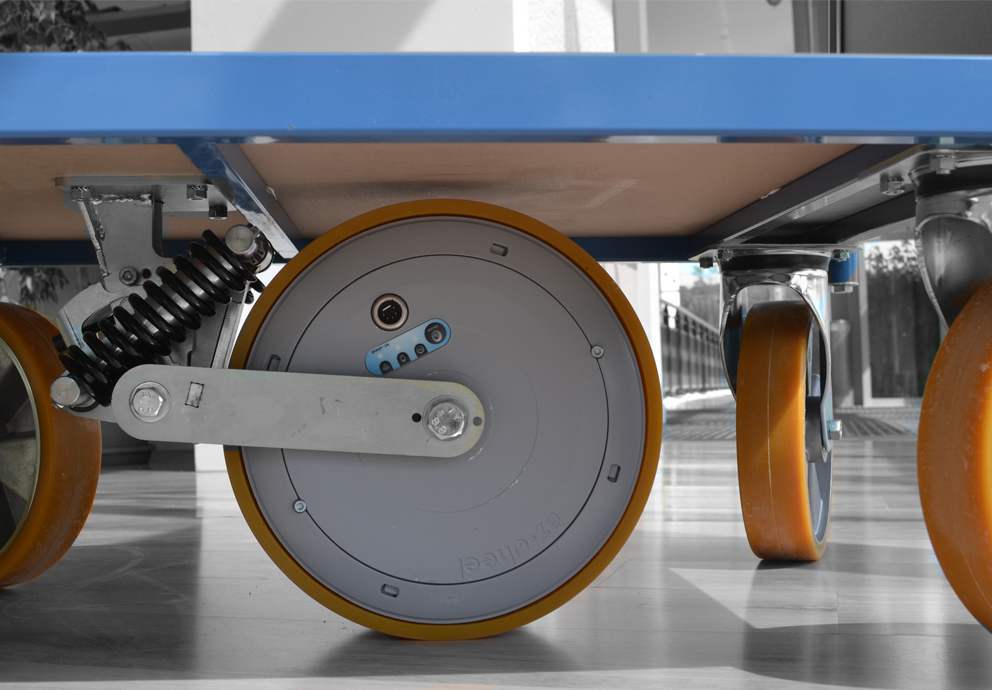 The first electric wheel integrating motor and batteries. Ez-wheel France has created the perfect solution in order to comply with pushing / pulling limits set by the EU. It is not longer necessary to overload the operator when pushing wheelchairs, wheeled cages, hospital beds etc. The application list is endless and the benefits to the operator in work output and reduced effort significant.
A classic example of gain would be in a care environment where it is no longer only the physically fit that can walk the immobile in their chairs. Those that can walk can push the patient with almost no pushing effort. Ez-Wheel proposes the first industrial electric wheel featuring embedded motor and batteries. This revolutionary solution can quickly and easily power any rolling material dedicated to load handling or people transportation.
BIBUS INDIA is the sole distributor of ez wheel the electric wheel in India. ez-Wheel are ready to operate in indoor/outdoor conditions. All the components including the battery are designed to withstand 5 years of operation without any maintenance.
Benefits:
Compact and simple

Easy sourcing and setup

Lifetime (Ni-MH / brushless) and after sale Usage

Concrete floors, manufacture

Heavy loads Service

Start assistance / effort reduction

Weight: 500 kg to 1,5 ton on flat ground

Autonomy: 50 to 200 starts
Series 300
Indoor / Outdoor

Heavy loads transportation

Assistance / Propulsion
Series 160
Indoor

For mobile equipment

Assistance to manual handling
Series 10"
Outdoor

Inflated tyres

For tools or vehicles