Compact and short-stroke pneumatic cylinders

Compact pneumatic cylinders are ideal for applications with space limitations. Camozzi has wide has a range of single and double-acting compact cylinders. Camozzi series 31 pneumatic cylinders are available in 10 different bore sizes from ø 12 to ø 100. They are made of aluminium body and end-blocks are rolled stainless steel. These compact cylinders can be used in high temperature (140°C). The new Tandem version generates a thrust force which is more than the normal cylinder and The Multi-position version allows a maximum of 3 different positions which are determined by the stroke of the individual actuators.
Camozzi has a wide range of short-stroke cylinders series. QN Series are single-acting non-magnetic cylinders mainly used for positioning and locking purposes. QP Series can operate both single and double-acting and Series QPR is double-acting. The guides are manufactured in the external profile parallel to the sliding axis on three sides. These are used to locate the switches that sense the piston position. The non-rotating guides make the QPR suitable for supply operations and for handling equipment.

Series RPA short stroke cylinders are double-acting actuators with aluminium hollow through the rod and mounting stud. These compact cylinders are suitable to be used, combined with suction pads, in End Of Arm Tooling (EOAT) systems, especially in the sector of plastic injection moulding. Download the catalogue for more details.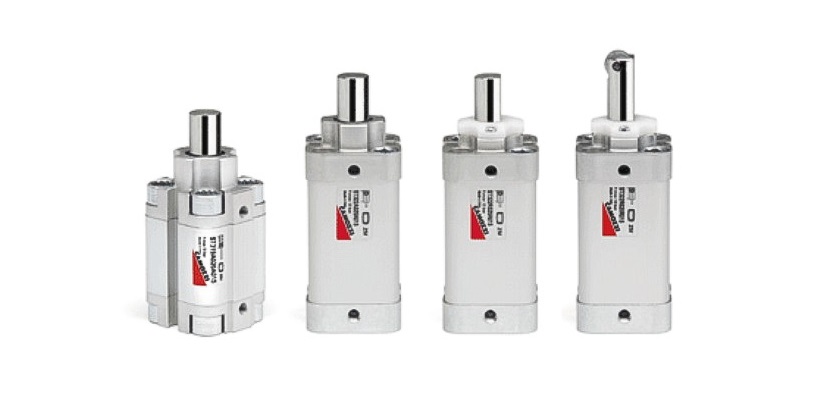 The Series ST compact stopper cylinders complying with UNITOP and ISO 21287 standards. The rod and bushing have been specifically enlarged to ensure high resistance to radial loads and shocks. These cylinders are available double-acting and single-acting and with a rear spring. The non-rotating rod version is also available.