03/13/2017
BIBUS celebrates 70 years of trading
BIBUS was established 1947 by Dipl. Ing. Hans Bibus as an exclusively steel trading company it was further expanded and developed by his son Felix Bibus. From being a steel trader, the company has developed over the decades into the business segments of technology, materials and electronics. The same core competencies are pursued in all three segments: Engineering, Logistics and Services.
Today, under the roof of BIBUS HOLDING AG we are a strong and successful group consists of over 32 subsidiaries throughout Europe & Asia, we have the ability to provide many diverse industries with a complete engineering solution for all their application needs.
In India BIBUS Horizon Mechatronics & Automations Pvt Ltd, formed on April 13th 2013 headed by Mr. Sesha Sai Vedantam, a veteran in this field for over 22 years. BIBUS Horizon is responsible for the sales, distribution and technical support of pneumatic, mechatronic & environmental technology equipment and accessories in Indian Market. As a technical trading company we project and sell innovative, partly unique components and solutions of international manufacturers – our competences are: Pneumatic, Mechatronic & Environmental Technologies.
Supporting Your Success.....!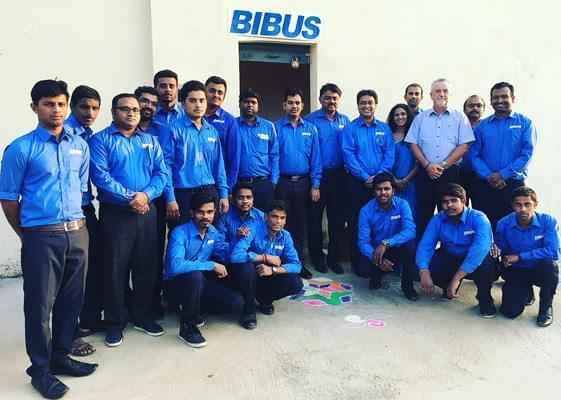 Through the Years :
1947
Establishment of the sole proprietorship of Mr. Hans Bibus in Zurich

1950
Kneubühler, Switzerland

1952
Felix Bibus joins the company of his father's one. The company's business on the pure iron and steel trade was also widened.

1964
Establishment of the Employees Care Stock at BIBUS HOLDING AG

1968
The company moves to a new location in Zumikon in the canton of Zurich (Switzerland)

1974
Founding of BIBUS HOLDING AG in Zumikon. At the time of registration, all future activities of the divisions are settled within one company.

1976
Founding of BIBUS HYDRAULIK AG, Switzerland

1977
Künderli Stainless AG is renamed SAUTER EDELSTAHL AG (C-Tech Ltd)

1978
BIBUS Wiggin AG gritting from BIBUS AG

1979
Establishment of the Bibus Inco Alloys AG (today: BIBUS METALS AG)

1981
Acquisition of Courvoisier by SAUTER EDELSTAHL AG

1982
Founding of BIBUS AG Zumikon

1984
Establishment of the BIBUS-Uto Stahl AG, Switzerland

1986
Fusion of part of BIBUS AG in the BIBUS-Uto Stahl AG

1990
Founding of BIBUS METALS GmbH, Germany
MPL AG, Switzerland
ELSOFT AG, Switzerland

1991
Peter Abplanalp appointed as Managing Director BIBUS AG

1992
Founding of BIBUS s.r.o., Czech Republic
MPI Distribution AG, Switzerland

1994
SAUER BIBUS, Germany

1996
Moving to Wallisellen
Bibus Polska Ltd., Poland

1997
Founding of BIBUS GmbH, Germany
BIBUS Zagreb d.o.o., Croatia

1999
BIBUS MENOS Sp. z o.o., Poland (Joint venture Bibus Polska Ltd. with MENOS Sp. z o.o.)
BIBUS SK s.r.o., Slovakia
BIBUS Austria GmbH takeover INDUCOMP GmbH, Austria

2000
BIBUS (UK) Ltd., Great Britain
Founding of BIBUS METALS Sp. z o.o., Poland

2001
Takeover and founding of BIBUS Kft, Hungary
Acquisition of DOEDIJNS Sarl., France

2003
Fusion of SAUTER EDELSTAHL AG and Courvoisier SA (itself founded 1887)

2004
Joint venture with INOTEH d.o.o., Slovenia
Founding of BIBUS METALS EOOD, Bulgaria
Founding of BIBUS METALS SRL, Romania

2005
BIBUS Ukraine TOV, Ukraine
BIBUS o.o.o., Russia
Founding of BIBUS METALS TOV, Ukraine

2006
BIBUS SES SRL, Romania
Moving of BIBUS AG to Fehraltorf

2007
Acquisition A/S H. Sindby & Co, Denmark
BIBUS Bulgaria Ltd., Bulgaria
BIBUS (BY) COOO, Belarus
BIBUS METALS Russia (as a subsidiary BIBUS METALS TOV, Ukraine), Russia
HCTH Technology, Vietnam

2008
Founding of BIBUS METALS o.o.o. (independent company), Russia
Sale of BIBUS-Uto Stahl
Founding of BIBUS Metals Ltd., Hong-Kong
MG2 Systems, France

2009
Founding of BIBUS EUROFLUID, Romania
Founding of BIBUS SPAIN, S.L., Spain
BIBUS METALS France (subsidiary of BIBUS METALS GmbH, Germany), France
Founding of BIBUS Portugal, Lda, Portugal

2010
Founding of BIBUS Shanghai Mec., Ltd., China
Founding of BIBUS METALS (Shenzhen) Ltd., China
Take-over of WESER-PUMPEN GmbH, Germany
Fusion of Kneubühler Ing, Zürich with BIBUS METALS AG, Switzerland

2011
Founding of BIBUS METALS s.r.o, Czech Republic
Founding of BIBUS METALS Ltd., England
Founding of BIBUS Otomasyon San. ve Tic. Ltd. Sti., Turkey
Building and move to the new Logistic Centre of SAUTER EDELSTAHL AG and BIBUS METALS AG at Möhlin, Switzerland
2012
Founding of BIBUS doo, Bosnia & Serbia
Founding of BIBUS Horizon Ltd, India
2013
Founding of BIBUS THAILAND Company Ltd, Thailand
Founding of BIBUS Italia Srl, Italia
2014
Founding of BIBUS Malaysia Sdn. Bhd., Malaysia